Online Financial Commitment 2022
Thank you for using the TPUUF online commitment form to participate in the 2022 Pledge Drive!
The annual financial commitment pamphlet is chock-full of information on our community's vision, its finances and challenges, and how you can participate to make our second half-century as momentous and historic as our first 50 years. Please use the Fair Giving Guide below, in addition to your own financial situation, to decide on a fair pledge for the upcoming year.
If you need to speak with someone before pledging, click here to email the TPUUF Stewardship Campaign Chairpersons, or the TPUUF Treasurer, Linda Weaver, and they'll be in touch promptly.
Please complete the following form and press the Submit button to send your pledge commitment to the TPUUF Treasurer.
Letter from the TPUUF President of the Board of Trustees, Preston Luitweiler: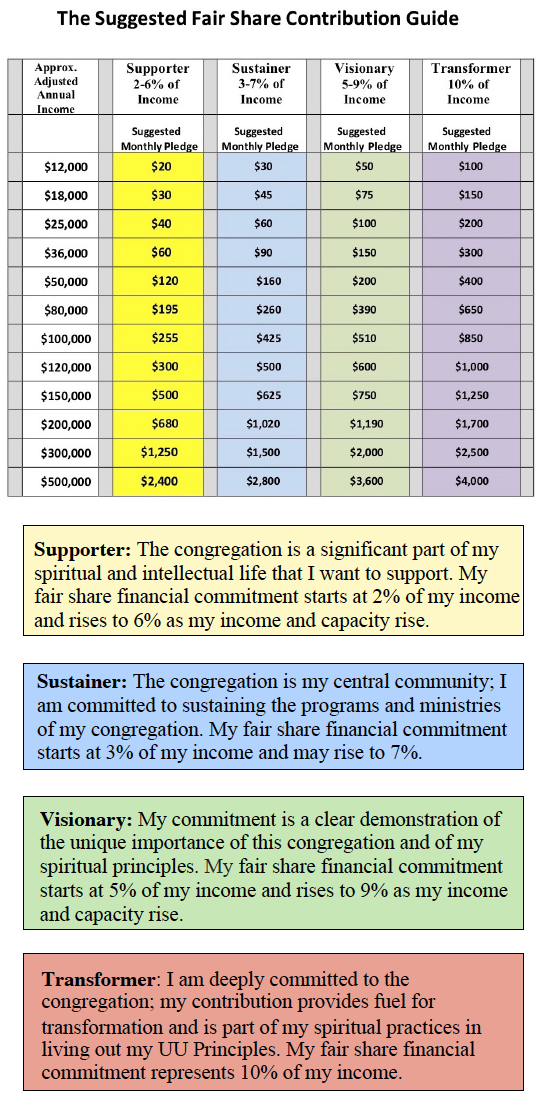 Dear TPUUF Members and Friends,
The coming 2022-2023 Church Year promises to be one of new beginnings.  We are returning to a renovated building with new technology for both virtual and hybrid services.  Thanks to your past contributions, we had a capital fund that allowed us to undertake renovations of our building while it was empty through the height of the pandemic.  Today, we are getting ready to welcome our youth and children back to classes.  Our Ministerial Search Committee is also closing in on hiring a new half-time minister for the coming Church Year.  Stay tuned for the announcement.
This time last-year, we faced challenges with the departure of our half-time minister, no staff and a meager cushion in our operating funds.  Our Fellowship was still in lock-down from the pandemic.  Our members stepped up and put together some wonderful services and brought in some great guest ministers and speakers.  Our amazing tech team of John Sayer and Mike McNeil perfected virtual services and then hybrid services.  Through the year, we conducted Childrens' Faith Development classes on Zoom and Small Group Ministry and Book Discussions both virtually and in-person.
Thanks to your continued support through the year and reduced operating expenses, we enter the 2022-2023 Church Year on a sound financial footing.  The pieces are in place for a great year.  All we need is your continued participation, enthusiasm and financial support.
Help us move into the new Church Year with resources and hope by making a generous financial commitment to Thomas Paine Unitarian Universalist Fellowship to sustain and build our community.  Please make a generous commitment to TPUUF in recognition or what our faith community means to you.  Thank you!
In Fellowship,
Preston Luitweiler
President, TPUUF Board of Trustees
Proposed Budget $69,681.00
Pledge Drive Goal $67,000