Children's Faith Development
The program is meant to provide children with an understanding of Unitarian Universalism, and the many experiences that reside in our religious community.
REGISTRATION
Nursery & Children's registration form is located in this link. This registration form must be completed for each year.  The information you provide goes directly to the Faith Development Committee and only pertinent information will be shared with classroom volunteers to ensure your child/ren's safety.  Please take the time to fill the form out fully; it should only take 5-10 of your time.   2019-2020 Registration Form
Policies to review as part of your annual registration: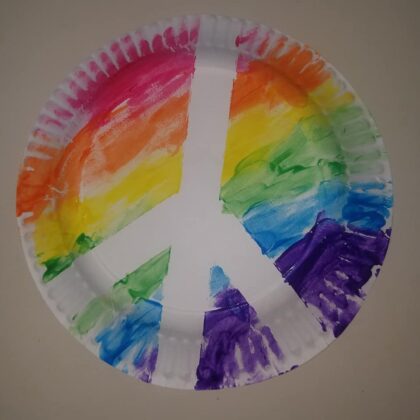 TPUUF nursery handbook 2019
Child Protection Policy
CFD Program Expectations and Covenant
We offer a multi-age learning environment for children enrolled in Kindergarten and up. Our 2019 – 2020 program draws from programs Spirit of Adventure – UU Identity and Soul Matters. Spirit of Adventure is a vibrant, hands-on program that incorporates physical movement, learning from challenge and adventure. The program embraces topics such as Sports, Medicine, Food, Holidays, Science, Building, Exploring and the Web of Life. Soul Matters offers thematic ministry and guides our explorations of across the congregation. Our children and youth will have opportunities to explore the same monthly themes as our adults through their participation in class, worship, multigenerational programs and resources provided for families to explore at home.
Our Youth Group meets on the First and Third Sunday evening each month September through June and is offered for children in grades 7+.
Our programs for children and youth have been developed in order to provide various learning opportunities for our children to learn and grow in their faith.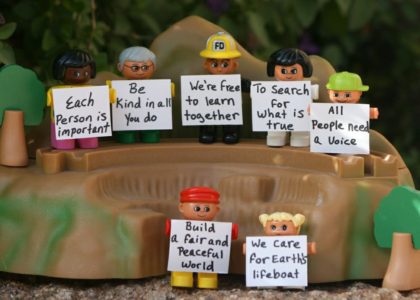 Multi-Age Sunday morning programming – Children's Faith Development programs will be available each Sunday morning during service. Through the year, our time together will include exploring curriculum programs, service projects, maintaining our Certified Wildlife Habitat, attending MultiGenerational Services together, special Children's Chapel services, Kindness Projects and more.
Children's Chapel This is a special multi-age offering which is a child-centered version of a worship service.  This allows our younger congregants to feel empowered to participate in a service and gain a better understanding of the elements of a service.
Multi-Generational Services We offer special services throughout the year that are specially designed to speak to audiences of all ages.  Recent Multi-Generational services have included our Pet Blessing service, Flower Communion service, our Celebration of Pete Seeger and our UU Troubadours and our Lifespan Faith Development Celebration Sunday.
Traveling Chalice
The Purpose of the Traveling Chalice Program is to deepen our understanding of one of our most familiar Unitarian Universalist symbols. The light of the Chalice connects us all together and is a sacred element of our beloved community. The Chalice may also be used as a symbol of hope when one is feeling or experiencing a sense of darkness. We will learn about its history and how it brings people together through learning and love.
How the Program Works
Each week a family/household (not just those with children) will take home the Traveling Chalice, which will be inside a special Chalice Box. A sign up sheet will be located on the Lifespan Faith Development bulletin board.
You may want to use the Chalice during your meals, family meetings, or as a bedtime ritual. Choose a reading from the materials provided or make your own.
Soul Work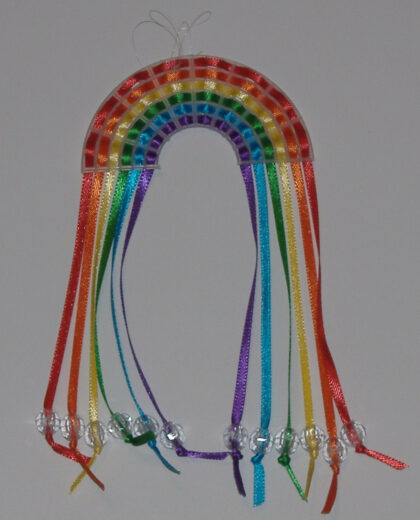 Hand Work as a Contemplative Practice
For Kids and Other Creative Folks
Sitting still, with nothing to do but listen, can be hard for kids and even some adults. In fact, neuroscientists are learning that some activities actually help us focus in on what we are hearing or learning—especially activities with our hands. Sometimes called "fidget items", classroom teachers know that activities like pipe cleaners, play-doh, and coloring can actually help listeners focus better. In particular, knitting, sewing, and coloring mandalas have been found to create the same brain patterns as those found during meditation–bestowing a calming, balancing effect. Often, busy hands = calm mind and body. It is in reflection of this understanding that our activity packs have been created.
Adults are invited to try an activity pack too. Pick one up on your way into the sanctuary, just inside the doors. Get creative! It's good for your soul, and that's faith development.
All Ages Sunday Fun Days We offer special programs on months with a fifth Sunday following service. These programs are designed with families in mind, but are open to all. They are an opportunity for all generations to be together in fellowship. We will explore our UU Principles and more through UU-inspired conversation starters, hands-on activities, social action projects, story and song and more.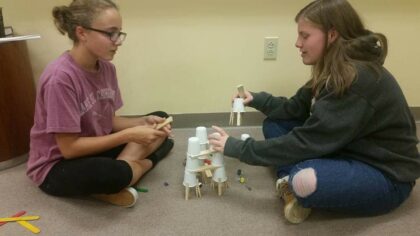 September 22, 2019:  Making milkweed seed bombs
December 29, 2019:  TPUUF Bingo
March 29, 2020:  Magical Mail
May 31, 2020:  S.T.E.M. Building Challenges
Special Programs and Events for Children and Youth
Fri 8.9.19: Friday Night Fellowship for Youth and Adults – Theatre and Improv Games
Sat. 8.24.19: UU Summer Bucket List Potluck Dinner Church Celebration
Sun 8.25.19:  Backpack Blessings
Sun 9.15.19:  Youth Group resumes for the 2019-2020 year
Sun 9.15.19:  Coffee, Crafting & Conversation kick off.  Meets 3rd Sunday each month
Sat. 9.21.19 Sounds of Peace: Stories, Crafts and Songwriting Workshop for Families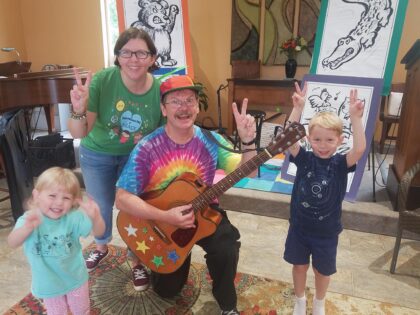 Sat. 10.26.19: Pumpkin Carving Party and Potluck Dinner
Dec 1:  UU Advent Calendars will be shared
Mon. 1.20.20 MLK Day of Service volunteer program
Sat 3.28.20: Earth Hour: Candlelight Game Night
Sun 4.12.19: UU Kindness Egg Hunt and Earth Day Celebration
Sat. 5.23.20: 1-4-3 Kindness Day in PA – TPUUF Kindness Wavers
Sun 6.14.19: LFD Celebration Sunday service
***  Check out each month's newsletter for monthly information on Faith Development at Thomas Paine!