Online Financial Commitment 2021
Thank you for using the TPUUF online commitment form to participate in the 2021 Pledge Drive!
The annual financial commitment pamphlet is chock-full of information on our community's vision, its finances and challenges, and how you can participate to make our second half-century as momentous and historic as our first 50 years. Please use the Fair Giving Guide below, in addition to your own financial situation, to decide on a fair pledge for the upcoming year.
If you need to speak with someone before pledging, click here to email the TPUUF Stewardship Campaign Chairpersons, or the TPUUF Treasurer, Preston Luitweiler, and they'll be in touch promptly.
Please complete the following form and press the Submit button to send your pledge commitment to the TPUUF Treasurer.
Letter from TPUUF Board President, Linda Weaver: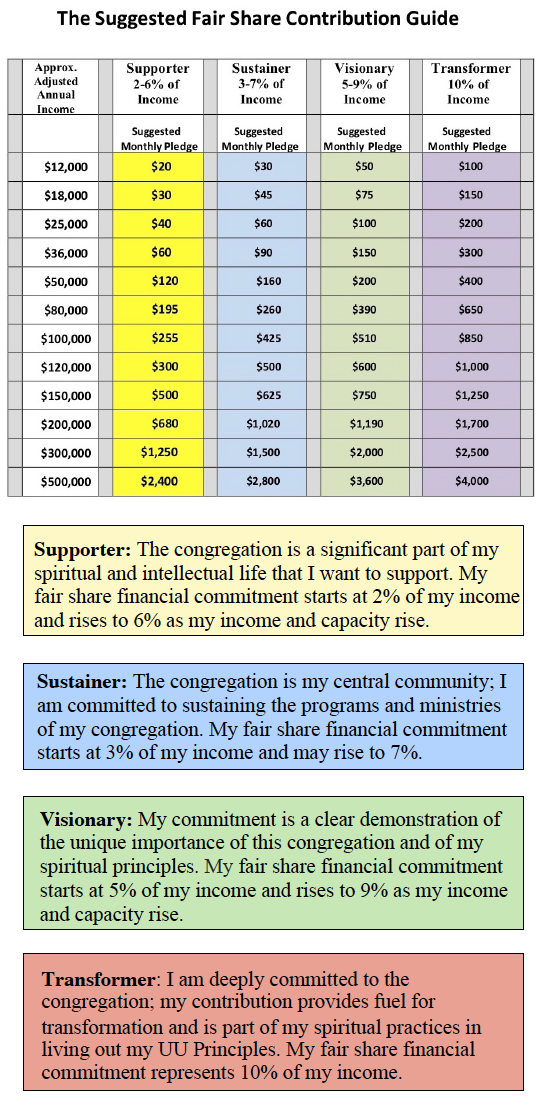 Dear TPUUF Members and Friends,
This past year was certainly one of challenges and changes as we all dealt with the horrible COVID-19 pandemic. The pandemic closed our building and tragically took the lives of several of our members. Others lost loved ones. We continue to mourn all of these losses.
As a Fellowship, we had to pivot quickly and figure out how to maintain our Beloved Community virtually. Our amazing tech team of John Sayer and Mike McNeil managed to make this happen. Through the magic of Zoom we have held weekly services. We have also conducted Childrens' Faith Development classes, Soul Matters group session, Small Group Ministry, yoga, book discussions and more virtually. The Board of Trustees, the Worship Committee, Communications Committee, and others have continued to meet virtually to meet the needs of the Fellowship.
Leading us through all of these challenges and changes was our incomparable minister, Rev. Larry Peers. His leadership, organizational skills, knowledge, compassion, connections, and caring were exactly what TPUUF needed to meet the challenges of the pandemic. We are so glad he is our minister and owe him a huge debt of gratitude for his wisdom, patience, and hard work.
This time last year, we faced some hard realities in looking to match the size of our budget and programs to our numbers and resources. As a congregation, we made difficult, yet necessary, decisions that have placed us on a sound financial footing. Thanks to you, we met our pledge goal and had a balanced budget for the first time in several years. A successful Capital Campaign begun the previous year has put us in a position to make repairs and upgrades to our building while it is empty.
We are asking that you help us continue forward on our positive trajectory by making a financial commitment to Thomas Paine Unitarian Universalist Fellowship. Your contributions will enable us to grow together through the coming year.
Please make a generous commitment to TPUUF in recognition of what our faith and our Fellowship mean to you. Thank you.
In Fellowship,
Linda Weaver
President, TPUUF Board of Trustees
Proposed Budget $71,300
Pledge Drive Goal $67,000
This proposed budget allows our Fellowship to continue regular Sunday services and religious education, maintain our grounds and building, and nurture our caring community.